Our party brunch is only on the last Sunday of every month and gets booked up pretty quickly.
The Party Brunch starts at 12pm and wraps up by 5pm with the following timeline of events:
12 pmDJ starts
1 pmElectric Violinist begins,
accompanying the DJ
3 pmDrummer begins, accompanying
both the DJ and Violinist
5 pmAll music stops,
brunch is over
We recommend making a reservation for sometime between 12pm and 1:30pm so that everyone in the group will have time to get seated, order their food, and finishing eating before the fun really kicks off at 3pm. We want you to have the best time possible so feel free to bring any decorations for your table that you want, just please notify us in advance, and you are more than welcome to bring an outside dessert, we just have a $50 plating fee. Since we have our own bar and offer the option of Bottomless Brunch Cocktails, we don't allow any outside liquor or wine to be brought to our event. We don't require a prix fixe menu for reservations, regardless of group size, but we can create one for you with selections of your choosing if you would prefer one! By purchasing this package you are giving yourself a $150 credit person towards food and beverage.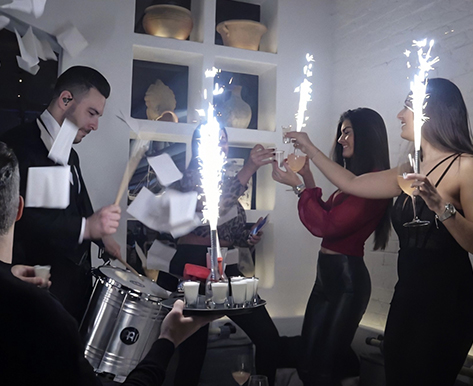 Available for groups of 4 or more
This selection requires a minimum of $150 spent per person on food and beverages (plus tax and gratuity). This minimum can be met by ordering a la carte from our menu, ordering our signature cocktails, bottle service, and/or you can even choose to use our Bottomless Brunch Cocktail (BBC) option to reach the minimum. BBC includes bottomless Sangria, Bloody Mary, Bellini, and Mimosa for $35 for 90 mins or $45 for 2 hours. Participating in the BBC is not required, purely optional, and it finishes at 3pm regardless of the purchase time – that's why we recommend coming in between 12pm and 1:30pm.